When it comes to breast pumps, it's easy to get lost choosing one of the many models  available on the market. Here is step by step guide to help you choose the right breast pump that fits your lifestyle and needs.  
Table of contents
1- Ask yourself the right questions
For which use?
Before investing in a breast pump, first ask yourself : why do I need one,  when and where will I use it?
- Why do you need to pump milk?
To start lactation. In the case of a baby who cannot suckle directly at the breast (a suckling problem, baby does not want to suckle...) for exmple.
Because of a physiological concern (umbilical nipples, pain, cracks...) or a health concern (lack of milk, fatigue...)
To involve your spouse or partner in this unique moment of breastfeeding your child.
Because of separation from your baby (back to work, school...)
In the case of a premature or sick baby
If milk production increases or is insufficient 
To know and control the amount of milk given at each feeding
- When ?
Either occasionally
Or frequently and regularly and over an extended period of time
- Where?
Will you always express milk in the same place, at home, at the office?
Do you think you will only use it at home?
Do you need to take it with you when you go out (work, vacations...)?
What type of breast pump?
A certain number of points are to be taken into account: comfort of use, efficiency, manual or electric breast pump, single or double pumping model, hygiene, availability, and of course the budget you are ready to invest...
If you express your milk regularly, a double electric pump will help you save time during your expression sessions (especially since expressing milk is, at least initially, rather time-consuming). Expressing your milk with a double breast pump can help you cut the time of each session in half and increase the volume of milk expressed by 18%.
Choosing the right model of breast pump will then mostly depend on your usage. 
Budget-wise, manual breast pumps remain less expensive than electric models.
Medela's breast pumps are designed to meet the needs of all breastfeeding moms: from the initiation of breastfeeding in the hospital to the occasional needs of a busy mom.
All Medela breast pumps feature 2-Phase Expression Technology, which mimics the baby's natural sucking rhythm for comfortable and effective expression.
In fact, 2-Phase Technology mimics the rhythm of sucking with a stimulation phase that mimics sucking, where the baby sucks vigorously to get the milk up, and then expression, where the baby has a slower, longer suck.
Manual basics
If you choose a manual breastfeeder, know that they have the advantage of being silent. They are especially suited for the occasional use.
The Harmony™ breast pump (Flex™ version) is a unique manual breast pump featuring 2-Phase Expression® Technology: its pivoting handle mimics your baby's natural sucking rhythm, stimulation and expression.
It does not require electricity.
Electric models:
Renting
Renting a breast pump is a cheaper and easier solution for occasional and/or short term usage. 
With Medela Symphony, you can thus get a hospital grade electric breast pump (double or single pump) and can continue to use the same breast pump you had at the maternity hospital.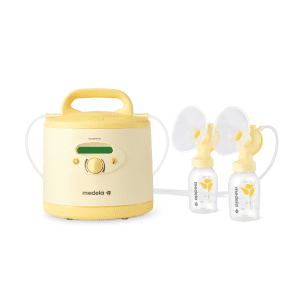 This clinically researched breast pump helps you initiate, amplify and maintain adequate milk production. Very easy to use and surprisingly quiet.
It has 2 programs: The INITIATE program makes it easy to start lactation and the MAINTAIN program facilitates amplifying and maintaining your breast milk production.
This breast pump is extremely gentle on particularly sensitive areas of the breast. It reduces symptoms of engorgement and helps with mastitis and highlights flat or umbilicated nipples.
In order to express milk abundantly and comfortably, every mother needs a nipple that fits her perfectly. Therefore, there are 5 different nipple shield sizes. The PersonalFit Plus sets (single or double) for Symphony breast pumps are available with nipple sizes S (21 mm), M (24 mm) or L (27 mm). Sizes XL (30 mm) and XXL (36 mm) are also available.
Buying 
Swing Maxi (new generation)
This is a double electric breast pump.
Medela brings its iconic Swing Maxi Flex™ breast pump back to life with a stylishly redesigned Swing Maxi breast pump. Be more mobile with the built-in rechargeable battery for up to 6 expression sessions on a full charge, but also quieter. And continue to benefit from Medela's Flex™ technology that gives you the flexibility and comfortable, efficient expression experience you deserve.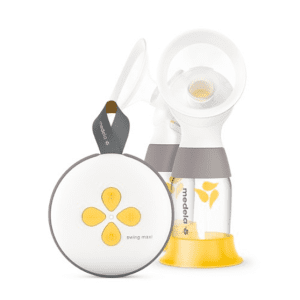 Double expression for 18% more milk, in less time.
2-Phase Expression™ technology mimics your baby's natural sucking rhythm.
PersonalFit Flex™ nipple for added comfort and 11% more milk. 2 sizes are provided (size 21mm and 24mm).
Solo
Solo™ is a simple, lightweight, compact, efficient and easy-to-use electric breast pump with a rechargeable battery, 2-Phase Expression technology and PersonalFit Flex™ teat.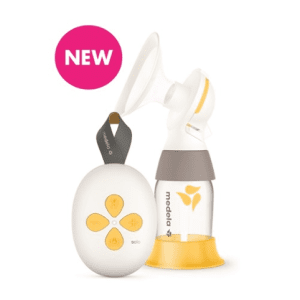 Longer battery life: up to 6 expression sessions on a full charge of the rechargeable battery.
To express your milk comfortably and efficiently, when you need it. The ideal solution for breastfeeding women who want to occasionally hand over their baby's feeding to their partner, leave for an appointment, or simply take a break.
Freestyle Flex
Freestyle Flex is a double electric breast pump: the ultimate in breast pumps!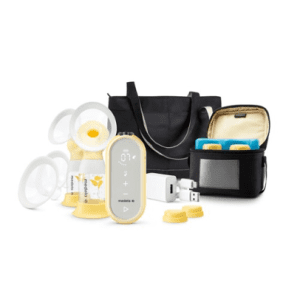 Freestyle Flex™ was designed to fit your everyday life: its compact, lightweight design and USB rechargeable battery gives you the ability to pump your milk anywhere, anytime, without compromising on performance.
Freestyle Flex comes with:
2 Medela PersonalFit Flex™ nipple shields, size 21 mm,
2 Medela PersonalFit Flex™ nipples, size 24 mm,
4 150 ml breast milk bottles,
1 carry bag with ice pack.
Freestyle Flex connects to the free Medela Family app to download, record and track pumping progress
What is the difference between the Medela Swing Maxi and Freestyle Flex breast pumps?
These breast pumps are both dual electric pumps that express more milk in less time and have a built-in rechargeable battery. However, the Medela Freestyle Flex breast pump has advanced features, including a digital, touch-sensitive light interface and Bluetooth connection to the MyMedela app.
In a nutshell
Every situation is unique, so you will have to take several of your needs and lifestyle habits into considereation when choosing a breast pump. 
A breast pump is not the answer to all breastfeeding problems and the mother should be advised by a health professional according to her particular situation. The Hospilux team is at your disposal for any further information you may require regarding the choice of a breast pump: boutiq@hospilux.lu.