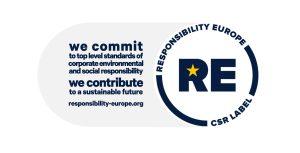 Hospilux, a company that has been supporting healthcare professionals for more than 35 years in Luxembourg, is particularly proud to have been distinguished for its environmental and social commitments.
This official recognition, both national (ESR) and international (Responsibility Europe), rewards the in-depth work carried out by the Hospilux team over the past several months. It illustrates Hospilux's unwavering determination to link economic development with commitments to its employees and sustainable development.

"Our business is to supply the entire health and care sector with high quality equipment and we therefore never lose sight of the fact that behind our customers are the patients," says Nicolas Henckes, General Manager of Hospilux. "The ESR label is a great tool for quality management in the broadest sense, encompassing all parameters to ensure that the creation of shared value is maximized for Hospilux, our customers, patients and all our stakeholders. Obtaining this label is therefore just the beginning in the continuous improvement of our services."

Hospilux has thus focused its action on several areas, including
Continuous improvement of its employees' working conditions
Ensuring the safety of its employees by initiating a "Vision Zero" approach to reduce workplace risks
Reducing its environmental impact, in particular through better management of its waste, preceded by a search to reduce it
Signing the Diversity Charter to raise awareness of diversity issues in the workplace


About INDR
INDR is a key player in CSR in Luxembourg, which it promotes at the institutional level. It collaborates with sustainable development stakeholders to co-create relevant solutions for companies in the framework of the national program ESR-ENTREPRISE RESPONSABLE. Hospilux now belongs to the 250+ companies labeled in Luxembourg.
About Responsibility Europe
Responsibility Europe brings together trusted third-party organizations that share European values and the conviction that CSR is a real challenge for companies and other organizations in terms of competitiveness, sustainability, innovation and resilience. Responsibility Europe is the international reference brand for SD/CSR labels and certifications. It forms the link between labels and CSR certifications with the same DNA that share strong ethical and European values.
Follow us on social media: Facebook, Instagram and Linkedin.