Hospilux SA, leading specialist when it comes to medical needs and medical technology in Luxembourg, is proud to share its new 3-year sponsorship deal with ASBL Ambulanz Wonsch. 
Ambulanz Wonsch's mission is to provide people who are dying and bedridden with the resources, specialized transportation and the medical care they need to fulfill their last wish. Within the framework of this partnership, Hospilux SA offers the maintenance of the ambulance at an authorized Mercedes Benz dealer in Luxembourg, provides the uniforms worn by the ASBL team and rents the medical equipment necessary for the proper functioning of the ambulance free of charge. 
This partnership falls in line with Hospilux's CSR approach, to support the medical field in Luxembourg but also to promote the importance of patient follow-up beyond general care.  
"As a medical equipment distributor, our teams never lose sight of the fact that the ultimate beneficiary of our work is always the human being. All the medical care and equipment is not sometimes not enough, and an non-profit such as Ambulanz Wonsch provides essential soul care for the patient and their family," says Nicolas Henckes, Managing Director of Hospilux. 
Among the wishes already fulfilled by this young association are those of a young woman who was able to have a spa-day in Amnéville (France), a visit to the patient's favorite museum, swimming with dolphins or a simple visit to their family. 
"We, Ambulanz Wonsch, are truly grateful for this collaboration with Hospilux and are proud of having them as a partner on our mission of adding life to days. This cooperation not only provides us with much-needed support in the financial aspect of our mission but additionally, having their knowledge and expertise at our disposal is just as important to us as we go forward." Explains Karen Van hout, Ambulanz Wonsch president.  "Safety, well-being, and a deep sense of comfort lie at the core of everything we do. Partnering with Hospilux, an expert in this field, gives us the assurance that together we can make many wishes come true."  
Learn more about Ambulanz Wonsch and how to support their mission: Ambulanz Wonsch – Lescht Erënnerungen schafen 
  Nicolas Henckes - Hospilux and Karen van Hout - Ambulanz Wonsch.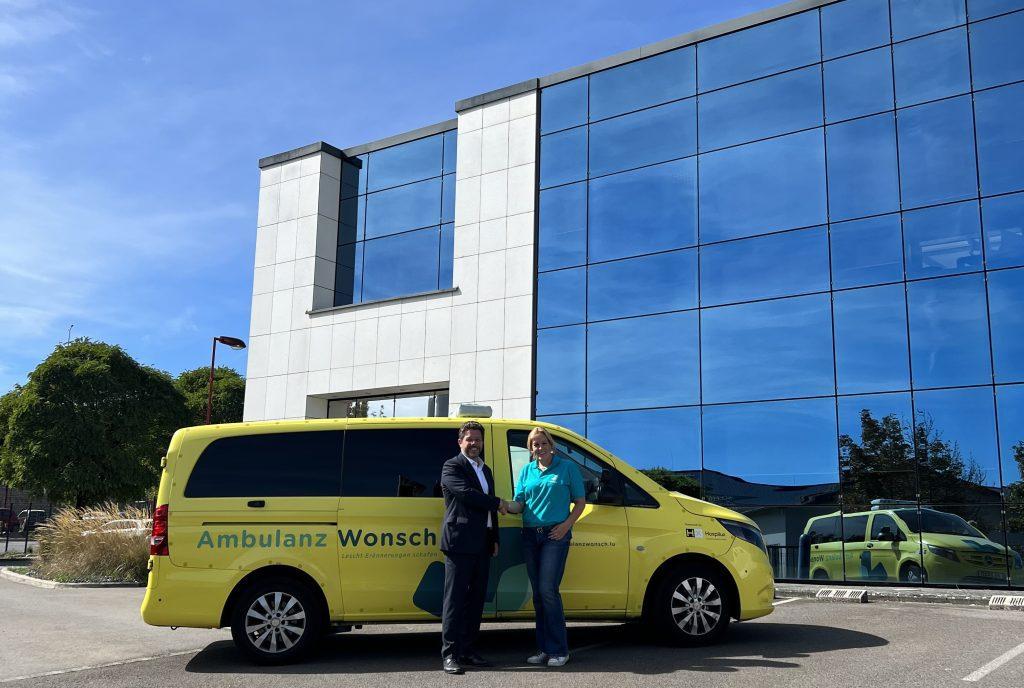 Don't forget to follow us on our socials: Facebook, Instagram & Linkedin.